Is and to what extent is RNM transparent in the process of state aid granting for the Covid-19 outbreak?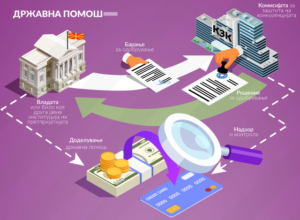 The Covid-19 pandemic outbreak poses a serious threat not only from a health aspect, but also from an economic aspect due to the negative worrying effects on the global economy. The European Union (EU), its member states, but also candidate countries such as the Republic of North Macedonia (RNM) are looking for ways to mitigate the negative economic effects through ambitious fiscal packages of state aid measures. This situation, besides fiscal challenges, also poses challenges concerning policy, processes, and the application of EU state aid control rules, which are equally applicable to RNM.
CEA prepared a transparency report on state aid granted under Covid-19, and drew a parallel with the EU.
PART of the Findings on whether the rules and good practice for transparency and accountability for the granted state aid for dealing with Covid-19 are followed?
The exceptional urgency caused by Covid-19 requires a faster response from the competent institutions. The CPC responded relatively promptly to the notifications related to state aid for Covid-19 and issued decisions granting state aid (when according to law) to the applicants within one to ten days.
There is a general prohibition for state aid (Article 7, LSAC), and it is granted only by exceptions and with established procedures. The state aid for dealing with Covid-19 is considered an exception and as aid for dealing with damage caused by exceptional events.
RNM adopted the EC's Information and Temporary Framework to support the economy in the context of the coronavirus outbreak relatively late.
The CPC doesn't publish information about state aid notified by state aid providers even though it is a legal requirement (Article 29, LSAC).
Although delayed by almost four months, the CPC has published the decisions for the approval of state aid to providers in the context of Covid-19; however, this information has not yet been published in the Official Gazette.
The CPC still doesn't fully comply with the rules and good practices for timely, up-to-date publication of detailed data on the providers and the beneficiaries of state aid.
The national portal Open Finance and the section on Covid-19 are not fully comparable, i.e. there are errors, and data are not easily processable for additional analyses.
The granted aid, called de minimis (aid that doesn't exceed EUR 200 thousand in 3 years per beneficiary), is not subject to a decision approval procedure, and the beneficiaries are not made public, as it is not considered state aid (Article 9, LSAC).
Details in the full report in English: State Aid Transparency in the EU and North Macedonia during the Covid-19 Situation